The world around us is constantly changing. If we don't change with it we could face being left behind.  We depend on people being able to adjust the way they work, think, behave and learn. When change happens your team needs to know what the future holds for them. What will they have to do differently? We help your teams to apply systematic thinking to the human side of change. Our simple tools and techniques will ensure that change happens faster, smoother and is easily sustained.
Many companies go through regular organisational change.  This is often a slow and painful process, with uncertainty and fear for most people involved or affected by the change.  We will help the team leading the change to clarify the vision and help the organisation understand why change is necessary.  With the right influence strategy, key stakeholders will get involved and actively drive the change, ensuring long-term, sustainable success.
Effective problem solving requires effective stakeholder management.  Most project leaders have, at some point, faced resistance to change from key stakeholders, even for ideas that appear useful and beneficial to the people involved and the business as a whole.  We will coach your project team to prepare for this resistance and develop an influence strategy to ensure stakeholders are engaged, involved, and informed.  
Change Acceleration Process (CAP)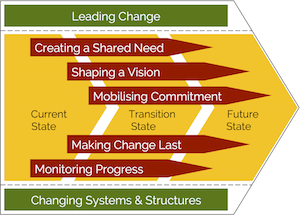 At GELRAD, we use GE's Change Acceleration Process (CAP) as the framework for managing change. CAP was developed at GE in the early 1990's to increase the probability of success of problem solving and change initiatives, particularly Rapid Improvement events (Work-Out) and other organisational changes.
When implementing a change, most of the attention usually goes into the technical aspects of the change, such as creating the plan of activities, designing the process or new organisation, managing the budget, etc.  CAP addresses the needs of the humans involved in the change, ensuring they understand and contribute to the success of the initiative.
There are structured tools behind each element that are used to prepare for and execute the stakeholder influence strategy, monitor the change, and ensure the environment supports the new way of working.