Our Continuous Improvement (CI) training courses are project-based, ensuring that every attendee will solve a real business problem while building capability in the methodology. We tailor our courses to your business and your problems, teaching those concepts that will be most useful for the problems you face. Training is just the first step: we also provide coaching and certification in Lean Six Sigma techniques. Learn more about Lean Six Sigma methodology below...
Intro
Introduction to Continuous Improvement (Simulation)
Get started with Continuous Improvement through an interactive, engaging workshop using a process simulation. Each participant has a role to play in a process that doesn't work very well at the start. Learning and applying Lean Six Sigma techniques to improve the process, the team will achieve a breakthrough in reducing process cycle time, eliminating defects, and delighting the customer. The simulation works best for groups of 12 and above. For groups of 25 and up, we can run multiple sims side by side, increasing competition and excitement as each team tries to to better than the other(s).
Introduction to Continuous Improvement
For smaller groups or tighter time constraints, we can provide an introduction to CI in a shorter session, drawing up on the experiences of the group to show how the tools and methods apply to the problems they face.
This type of session is easily customised to the specific context of your organisation, with flexibility around the preferred language, methods, and messages you want to deliver.
Leaders
Belts
Innovation
Coaching
Custom
Lean Six Sigma is a combination of the principles of Lean and the structured problem solving approach of Six Sigma. They are part of a general approach to Continuous Improvement: using the most appropriate approach, method or tool at the right time to understand and solve problems. A Rapid Improvement workshop can enhance engagement while applying these principles to achieve fast results. All these methods are most effective when coupled with Change Acceleration to manage the human side of change.
What is Lean?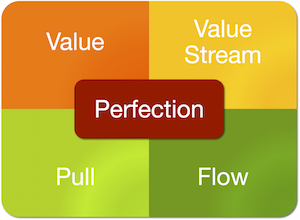 The principles of Lean are targeted at identifying and eliminating waste in all its forms. They were developed in Japan in the post-World War II era, primarily by Toyota Motor Corporation, and articulated in this form by Womack and Jones in their 1996 book, Lean Thinking.
Value: Recognise what the customer perceives as Value; what are they actually paying for?

Value Stream: Identify the interconnected activities and relationships that directly produce that value

Pull: Produce only what the customer needs when they need it: all activities at a step are initiated by the subsequent step (all the way to the customer)

Flow: Minimise or eliminate the delay between value-added steps

Perfection: Apply continuous improvement to ensure things are always done right the first time
What is Six Sigma?
What is Design for Six Sigma?
Click here to read and download more details on these and many other case studies.